JANUARY VOLUNTEER NEWSLETTER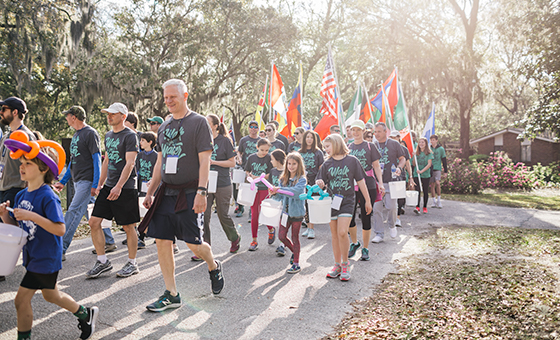 Dear Volunteers,
What a year! 2018 was full of challenges and victories around the world. Because of you, hundreds of communities experienced radical transformation through the blessing of safe water. Click here for a recap of the year's highlights from Water Mission co-founder Molly Greene.
2019 is now upon us, and with it springs hope for an even brighter future. This future is not only available in our own lives through the love of Christ, but it is also available for the many communities we will engage around the world thanks to your partnership.
Remember not the former things,
nor consider the things of old.
Behold, I am doing a new thing;
now it springs forth, do you not perceive it?
I will make a way in the wilderness
and rivers in the desert.
Isaiah 43:18–19
Read on for ways to engage with Water Mission in January. And while you're making those New Year's resolutions, go ahead and save the date for our biggest event of 2019 — the 13th annual Charleston Walk for Water on March 30, 2019! Sign up to volunteer today.
Blessings,
Bonnie Hanna
Volunteer Programs Supervisor


Upcoming Opportunities

MOVING DAY • 1/15 • 1 – 4 PM
Volunteers needed: 4
Description: As our team grows, we have created new work spaces! During this shift, we'll be moving furniture, boxes, and IT equipment.
To sign up: Click here.

SPECIAL EVENT SET-UP • 1/24 • 1 – 3 PM
Volunteers needed: 4
Description: Help us roll out the red carpet for special guests of the ministry! We'll be setting up for an important dinner, and we need your help to transform the multi-purpose room into a beautiful event space.
To sign up: Click here.

SATURDAY WORK DAY • 1/26 • 9 AM – 12 PM
Volunteers needed: 8
Description: Spend your Saturday at Water Mission gaining experience with our work! Jeremy will be leading another weekend work day for anyone who would like to learn more about Production volunteering.
To sign up: Click here.

First Impressions Desk Openings

FRIDAYS • 11 AM – 1 PM or 12 – 2 PM
Volunteers needed: 1 per shift
Description: Interested in getting more involved with Water Mission? Our front desk is a great place to serve a vital need while learning about the ministry.
To sign up: Email Janice Rodriguez at jrodriguez@watermission.org.
Lunch Crew Openings

WEDNESDAYS • 11 AM – 1 PM, 2-hour shifts
Volunteers needed: 1 or 2 per day
Description: Water Mission offers free lunch to all volunteers and staff as a way to foster fellowship. If you're looking for a weekly or monthly volunteer opportunity, look no further. You will work with Chef Paul to help set up, serve food, and clean up. No cooking experience required — just a flexible attitude and a heart to serve!
To sign up: Reply to this email directly.
2019 Walk for Water

Volunteer jobs are LIVE! Learn more and sign up today.

VOLUNTEER GROUPS
It takes a dedicated group of volunteers to pull off this incredible event. We have group volunteering positions for all sizes. Reply to this email to learn more or reserve spots for your company, church, small group, school, campus organization, etc.

PROMOTION
Help distribute flyers and posters around town! You can come by Water Mission any week day between 9 AM and 4 PM to pick up promotional materials. If you plan to pick up more than 100 flyers, please call us in advance at (843) 769-7395.
2019 Walk for Water Sponsorships

If you work in marketing, you know that exposure is everything! How does introducing your organization to 5,000 people sound? Email Lem Walker at lwalker@watermission.org to find out how you can attract new business while supporting this popular Charleston event.
Ask Amy

For the second year in a row, Amy Dickinson — widely read author of the "Ask Amy" column — has featured Water Mission as a trustworthy nonprofit for donors! Thank you for helping us maintain our reputation of integrity in our disaster response and community development efforts. Click here to see the full article.

*Photo courtesy of the Tribune Content Agency.
Thank you for helping us provide safe and Living Water to those in need around the world.