Welcome to My Personal Page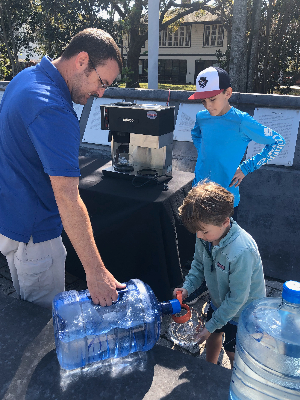 Hi Friends,
Act Now against the world wide shortage of water. Capitol Coffee invites you to help with us. Support Water Mission… follow the link below.
You have an exciting opportunity to raise money for Water Mission. Capitol Coffee has created a fundraising team and would love for you to be on it. My team will be raising funds by asking friends & family to sponsor them as they walk in the Charleston Walk for Water. These funds will be used to provide clean water and health and sanitation education to people all over the world. I hope that you would consider joining me to help bring hope to those affected by the global water epidemic. Every dollar matters. In fact, for as little as $30, one person can have access to safe water for life!
You can visit my personal page (see link below) to join my team. If you're unable to join my team, I'm asking that you'd consider making a donation on my behalf. You can visit my fundraiser site to make a donation online or you can contribute by phone or mail. For more information about the incredible work of Water Mission, please visit www.watermission.org.
Thank you for your time and consideration. I look forward to hearing from you.
Sincerely,
Mary Grey
http://events.watermission.org/goto/MaryGreyBreckenridge
View More
Achievements
Sock Badge - $100
Raised $100
Fundraising Honor Roll
Ms. Mary Grey Breckenridge
$100