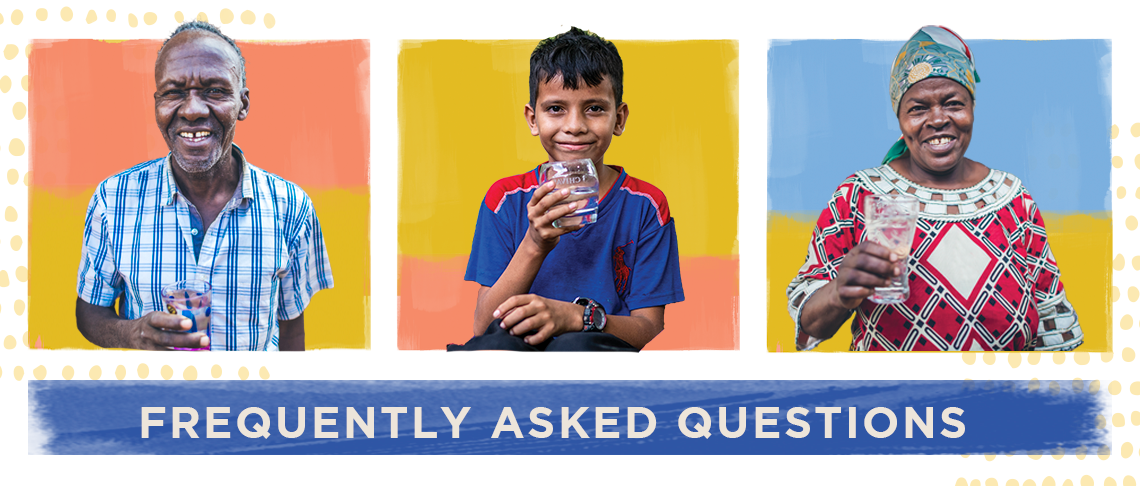 What is a virtual Walk?
A virtual Walk is a walk that takes place in multiple locations and participants are united by a common purpose—to generate awareness of the global water crisis and support for the 2,200,000,000 people around the world who do not have access to safe water. We encourage you to walk a 3-mile route in your neighborhood or local park as you consider those who make the walk daily to retrieve water for their family.
We have resources to help make your virtual walk engaging and fun! Our virtual walk instructions includes things like a music playlist, ideas for children's activities, and fun and interesting ways to share about your engagement with your friends and family.


When is the virtual Walk?
The virtual 2020 Twin Cities Walk for Water will take place on Saturday, September 26th. We encourage participants to walk on this day in their local community. If this date is not feasible, we welcome participants to walk and raise funds whenever is most convenient.


Where is the virtual Walk?
The virtual 2020 Walk for Water can take place in any location. This could be in your local neighborhood, around your office building, or in your local community.


Can my friends and family register for the virtual Walk?
Yes! We encourage you to reach out to your family, friends, and community inviting them to Walk for Water with you!


How do I share about the virtual Walk?
We encourage you to post photos of your virtual walk to your social media accounts. You can find social media images here! Please tag @TCWalkforWater on Facebook! There will be prizes associated with Facebook posts, fundraising wins, and team building activities!

How much does registration cost?
Virtual Adult (18+): $25
Virtual Student (15-21): $20
Virtual Youth/Children: Free (Ages 14 and under)

Where do my donations go?
All donations given to the virtual 2020 Twin Cities Walk for Water go directly to Water Mission, providing clean, safe water to communities around the world. This year we are excited to share funds raised will go to Water Mission efforts in support of COVID-19 projects around the globe.


Will I get a 2020 Walk t-shirt?
This year we are not providing t-shirts to participants. Instead, participants will get a one-size fits all Face Covering.


How do I get a commemorative Walk for Water Face Covering?
One free commemorative virtual 2020 Walk for Water Face Covering will be provided to the first 1,000 registered participants (USA residents only). In order to distribute the Face Coverings in a timely manner, please register by August 31st.


Can I join a team after I've already registered?
Yes! Please email walk@watermission.org to be added to a team.


What if I or my company is interested in sponsoring the event?
Contact Lauren Lupkowski at Lauren.Lupkowski@pacelabs.com to learn more.


Who do I contact for more information?
Call Water Mission at +1.843.769.7395 or email walk@watermission.org