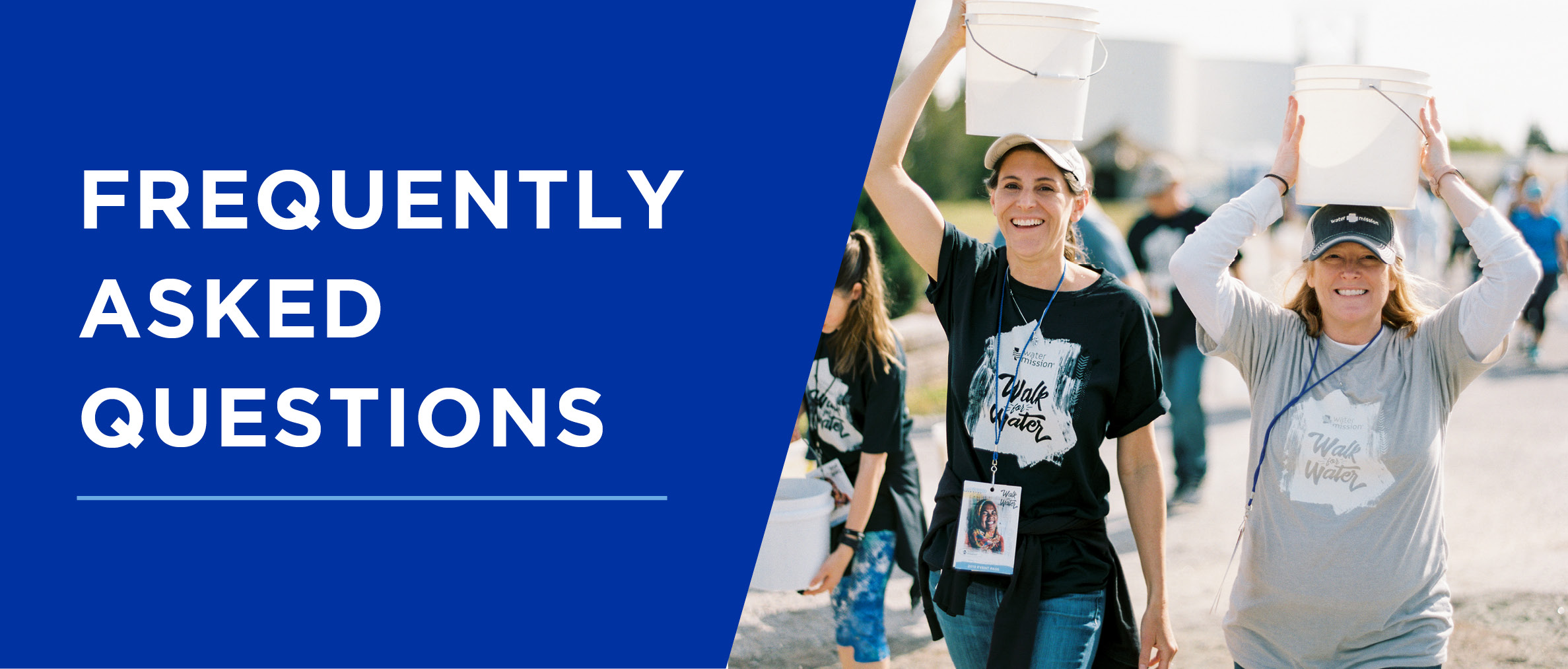 GENERAL


When and where will the Walk for Water-West Virginia take place?
The Walk will take place on Saturday, October 23, 2021, in Clarksburg City Park. Registration begins at 9:00 a.m. and the Walk will begin at 10:00 a.m.
I've registered for the Walk. How do I pick up my Walk t-shirt and participant materials?
We will host t-shirt pick-up times at Clarksburg Baptist Church from October 14th until October 22nd. Shirts can be picked up at the Clarksburg Baptist Church office Monday through Friday from 10 a.m. until 3 p.m. They can also be picked up the morning of the Walk at Clarksburg City Park.


How do I share about the Walk?
We encourage you to post photos of the Walk to your social media accounts. We've created easy-to-use participant materials just for you. When you post, please tag Water Mission and use #WVwalk4water. Don't forget to invite your friends, family, and colleagues to join you in participating!


How can I support Water Mission more through the Walk for Water?
The Walk is an opportunity to help raise awareness and support for Water Mission's ongoing efforts to fight the global water crisis. However, raising funds is not a requirement to participate in the walk. Should you want to do so, we do have resources available for your use. You can find them here!

How much does it cost to participate?

Adults (Ages 18 and up): $25
Youth (Ages 5-17): $10
Children (Ages 4 and under): FREE
Should I register my child if he/she is 4 years or younger?
Yes, please do. All registered participants will receive a Walk for Water t-shirt. The smallest t-shirt size available is youth medium.


Can I join a team after I've already registered?
Yes! Please email the name of the walker and the team to walk@watermission.org to be added to a team.


Who do I contact for more information about the Walk for Water-CSRA?
Please contact Valerie Hulme at vhulme@clarksburgbaptistchurch.com.
What should I do when I arrive at the Walk in Clarksburg City Park on October 23? 
When you arrive at Clarksburg City Park (in Nutter Fort), follow the signs to the designated registration area and grab an empty bucket. We will line up under the arch at 10:00 am and start the walk!

Where should I go if I want to register on the day of the Walk? 
Just head to the registration table at the pavilion! The area will be clearly marked with signs.

What can I expect on Walk day? 
You will check-in at registration starting at 9:00 am. The walk will start at the arch near the registration area at 10:00 am. We will be walking on the walking trail at the park, which is paved. The full walk is 3 laps in total. After one and a half laps, you will swap your empty bucket for a bucket with water and finish the walk (an additional one and a half laps).

Are dogs allowed at Clarksburg City Park?
Yes!