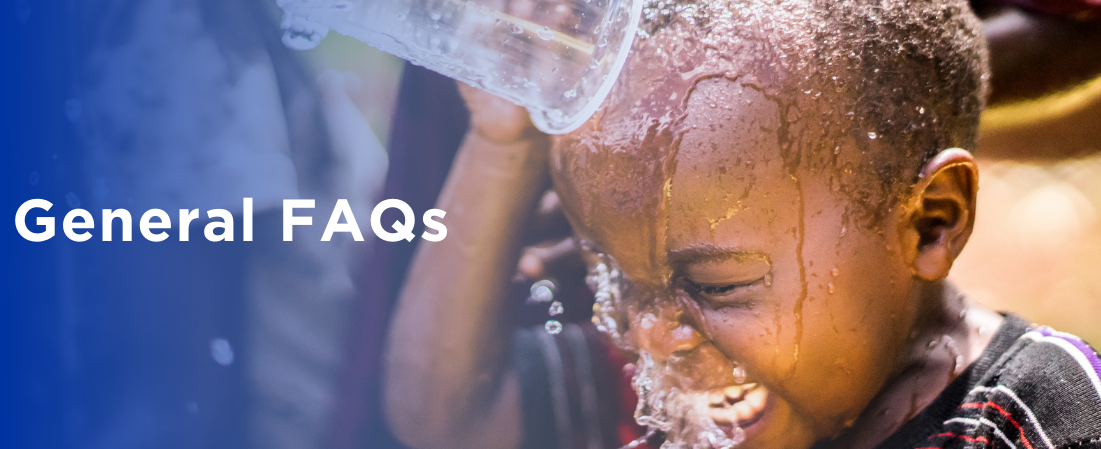 When and where is the Walk for Water?
The Walk for Water will take place on Saturday, March 26, 2022, at Riverfront Park (1061 Everglades Ave, N. Charleston).
How do I volunteer for the Walk?
You can register to volunteer for the Walk by going to our Volunteer Site.
I've registered. How do I pick up my Walk t-shirt and participant materials?
​Some participant materials are available on the resource page. Additional materials and t-shirts will be available for pick-up Tuesday and Wednesday the week of the Walk at Water Mission Headquarters from 11 a.m. - 6 p.m. and on Walk day at the park.

Team materials will be available for captains before the Walk.
How do I share about the Walk?
We've created easy-to-use participant materials just for you. These include social media images and resources. During and after the Walk, we encourage you to post photos of the Walk to your social media accounts. When you post, please tag Water Mission and use #walkforwaterCHS. Don't forget to invite your friends, family, and colleagues to join you in participating!
Do I have to raise funds in order to participate in the Walk?
The Walk is an opportunity to help raise support for Water Mission's ongoing efforts to fight the global water crisis, but fundraising is not a requirement to participate. If you choose to come alongside us in this way, we thank you! To help you share the Water Mission story and raise funds, resources are available here.
How much does it cost to participate?
Adults (Ages 18 and up): $25
Youth (Ages 2-17): $10

Should I register my child?
Yes, please do. Add child registrations by selecting the option with your adult registration. All registered participants will receive a Walk for Water t-shirt. The smallest t-shirt size available is a youth medium.

Note: Children may only be added to your registration when you initially register. If you need to add an additional child at a later time, please email walk@watermission.org for assistance.
Can I join a team after I've already registered?
Yes! Please email the name of the walker and the team to walk@watermission.org to be added to a team.
Who do I contact for more information?
Please call Water Mission at +1.843.769.7395 or email walk@watermission.org.
What is your refund policy?
All contributions are considered donations. ​We are unable to provide refunds.


Walk Day


What should I do when I arrive at the Walk in Riverfront Park on March 26?
When you arrive at Riverfront Park (1061 Everglades Ave, N. Charleston), follow the signs and sounds of excitement and join us along the river for the opening ceremony. Following the opening ceremony, you will be directed to grab a bucket and start walking so others don't have to!
Where should I go if I want to register on the day of the Walk?
You may register on the morning of the event at Riverfront Park. Cash and checks are accepted, however, payment by credit card is preferred on Walk day.
What can I expect on Walk day?
We will have plenty of fun and games for all ages at Riverfront Park. During the Walk, you'll carry an empty bucket for approximately 1.5 miles before filling it with water and walking approximately 1.5 miles back to Riverfront Park. Along the route, you'll learn about the global water crisis, experience stories from those we serve, and have the opportunity to tour Water Mission's global headquarters. Back at the park, you will empty your bucket into a Living Water Treatment System—a system that will be commissioned and sent to a community for use!

We encourage everyone to wear their Walk for Water t-shirt as we join together to fight the global water crisis. Wear comfortable shoes for the three-mile walk and dress appropriately for the weather.