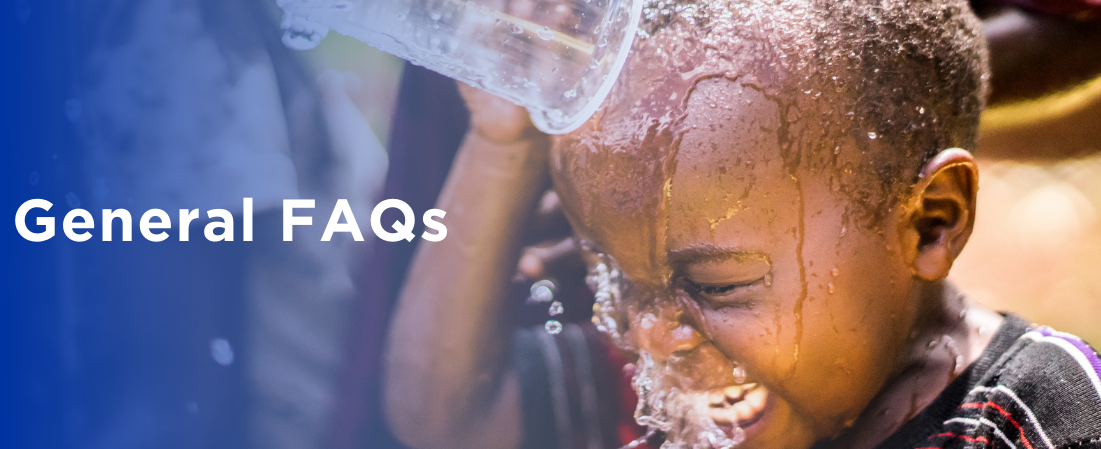 What is Water Mission and Walk for Water?
Water Mission is a nonprofit organization that strives to end the global water crisis by bringing safe water to those in less fortunate circumstances. The Walk for Water raises awareness and funds to help end the global water crisis. At the event, participants will walk a three-mile route symbolizing the daily walk many people in developing countries take to collect water.
When and where is the Walk for Water-Pittsburgh?
The Walk for Water-Pittsburgh will take place on Saturday, September, 24 2022, at Millvale Riverfront Pavilion, 70 Riverfront Drive. Check-in will begin at 8:00 a.m. (EST), followed by the Walk at 9:00 a.m. (EST).
I've registered. How do I pick up my Walk t-shirt and participant materials?
Materials and t-shirts will be available for pick-up the day of the event at the pavilion.
How do I share about the Walk?
We've created easy-to-use participant materials just for you. These include social media images and resources. During and after the Walk, we encourage you to post photos of the Walk to your social media accounts.
When you post, please tag Water Mission and use #WalkforWaterPittsburgh. Don't forget to invite your friends, family, and colleagues to join you in participating!
Do I have to raise funds in order to participate in the Walk?
The Walk is an opportunity to help raise support for Water Mission's ongoing efforts to fight the global water crisis, but fundraising is not a requirement to participate. If you choose to come alongside us in this way, we thank you! To help you share the Water Mission story and raise funds, resources are available here.
When can I register for the Walk?
Online registration begins on July 1.
Participants may also register at the event, but we cannot guarantee that your preferred t-shirt size will be available at that time.
How much does it cost to participate?
Adults (Ages 18 and up):
Early Bird Rate - $25
Day of Event-$30
Youth (Ages 6-17): $10
Child (5 years and under): FREE

Should I register my child?
Yes, please do. Add child registrations by selecting the option with your adult registration. All registered participants will receive a Walk for Water t-shirt. The smallest t-shirt size available is an Adult Small.

Note: Children may only be added to your registration when you initially register. If you need to add an additional child at a later time, please email walk@watermission.org for assistance.
What sizes are available for the t-shirts?
The t-shirt sizes that are available range from Adult Small to 4XL.
Can I create a team for the Walk?
Yes! When you register as a walker, you will have the option to start a team, join a team, or register as an individual.
Can I join a team after I've already registered?
Yes! Please email the name of the walker and the team to walk@watermission.org to be added to a team.
Who do I contact for more information?
Please email Kevin Taylor at kevtaylor6@comcast.net.
What is your refund policy?
All contributions are considered donations. ​We are unable to provide refunds.


Walk Day


What should I do when I arrive at Walk for Water-Pittsburgh on September 24th?
When you arrive at Millvale Riverfront Park, (70 Riverfront Dr., Pittsburgh), follow the signs and sounds of excitement and join us in the parking lot for the opening ceremony. Following the opening ceremony, you will be directed to grab a bucket and start walking.
Where should I go if I want to register on the day of the Walk?
You may register on the morning of the event at the check-in tent at the Millvale Riverfront Pavilion. Cash and checks are accepted; however, payment by credit card is preferred for individuals who register on the day of the Walk.
What if I arrive after the event begins?
If you arrive after the Walk begins, please check in at the check-in tent, and a volunteer will give you the materials needed to begin the Walk.
What is the walking route for the event?
The route will begin at the Riverfront Pavilion on the Three River Heritage Trail and go 1.3 miles on the trail to the foot bridge to Washington Island. If you would like, you can go up the ramp to the top of the bridge and have a picture of you and your group with the Pittsburgh skyline in the background. Then come back across the foot bridge to gather water for your bucket. There will be a water source at this point for participants to fill their buckets. Once a participant's bucket is filled, they will return to the Riverfront Pavilion location to empty the bucket.
What can I expect on Walk day?
During the Walk, individuals will carry an empty bucket for approximately 1.3 miles before filling it with water and walking approximately 1.3 miles back to Riverfront Pavilion.

We encourage all participants to wear their Walk for Water t-shirt as we join together to fight the global water crisis. Remember to wear comfortable shoes for the Walk and dress appropriately for the weather.
What will be along the Walk route?
Along the route, there will be stations to rest and get water, if needed. There will also be signs with more information about Water Mission, the global water crisis and more.
At the turn-around point, there will be a water source where you fill up your bucket and finish the rest of the Walk.